Baby Bee Box™
The perfect gift for new moms
The ultimate baby shower gift filled with 3 months of newborn essentials. A $200 value for just $150. For every Baby Bee Box™ purchased, we'll show our gratitude by giving back to Save the Children, to help families who need a little extra help.

bonding from morning light to goodnight
MEALTIME

Nourishing your baby is one of the first ways you'll develop a strong attachment, and our bibs and burp cloths make feedings easier, so you can focus on your airplane spoon technique.

PLAYTIME

Your baby will be more and more mobile each day, so breathable, cuddly-soft clothing is key. And during all that talking, tickling and tummy time, you might even hear that first giggle—a sound you'll cherish forever.

BATHTIME

A baby's skin is extra-sensitive to irritants, so our extra-gentle bath formulas, washcloths and towels provide just the right touch. They'll keep skin so soft, endless kisses will be inevitable.

STORYTIME

Reading aloud to your baby is one of the best ways to form a lifetime bond. Create memories together by reading to your baby. Start by reading them "Little Chickies," a very special board book, by Canticos®. This book tells a beautiful story of a mother's love.

BEDTIME

Safe sleep is one of the most precious gifts you can give your baby—and yourself. Zip them into our Beekeeper™ Wearable Blanket, designed to replace loose blankets in the crib (as recommended by the American Academy of Pediatrics).
"It's the type of gift that will put an anxious mom at ease because it literally includes everything."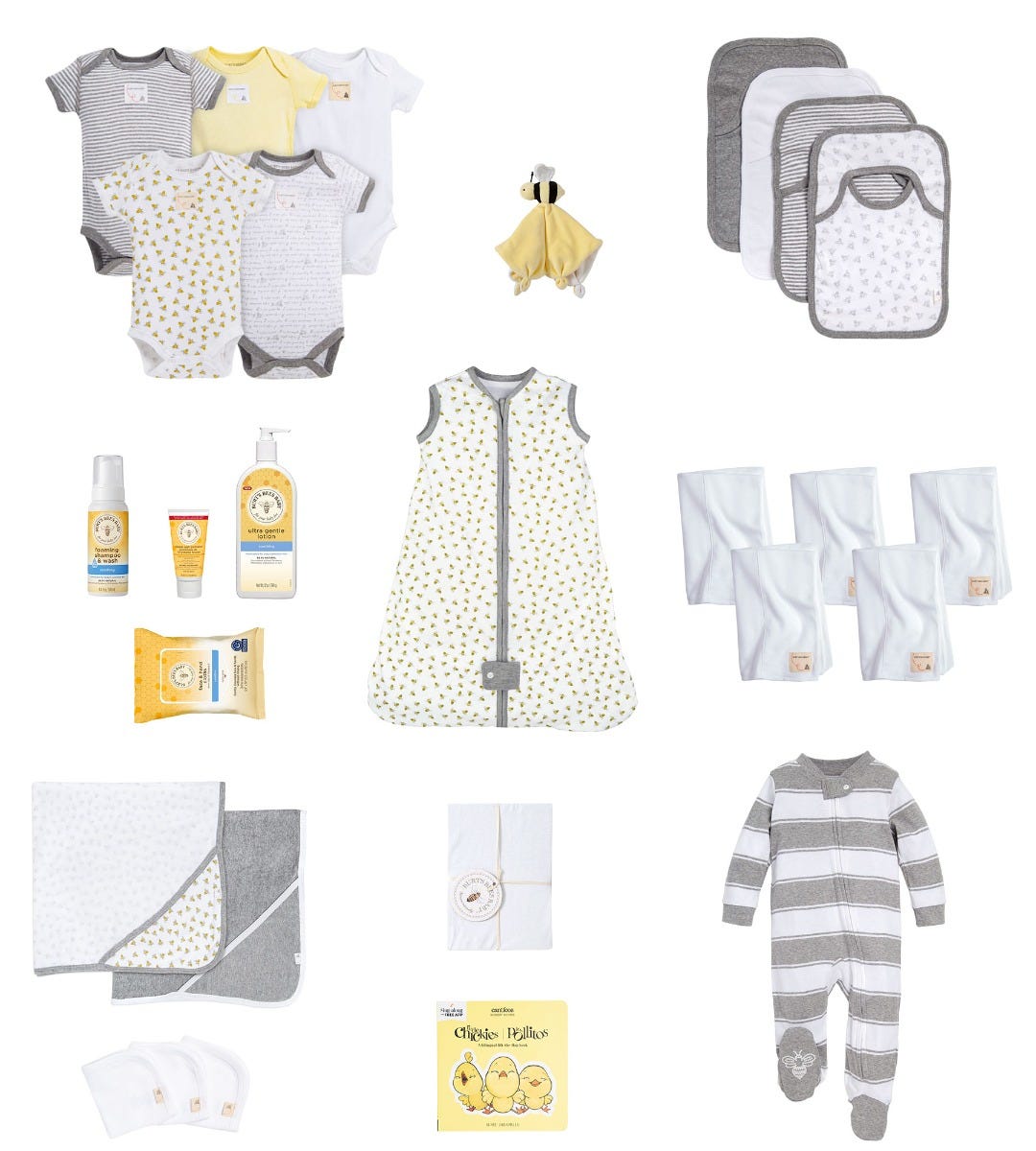 Set of 5 Bee Essentials Short Sleeve Bodysuits
5 Pack Burp Cloth
Set of 4 Bee Essentials Lap Shoulder Bibs
Set of 3 Washcloths
Solid Crib Sheet
Rugby Stripe Sleep & Play
Set of 2 Hooded Towel
Honey Bee Beekeeper Wearable Blanket in size small
Hold Me Bee Lovey Plush Toy
Burt's Bees Baby Bee Foaming Shampoo & Wash - Soothing 8.4 oz
Burt's Bees Baby Ultra Gentle Lotion - Soothing - 12 oz
Burt's Bees Baby Bee Diaper Ointment - 3 oz
Burt's Bees Baby Bee Face and Hand Cloths
Canticos "Little Chickies" board book*